Pristine environment for exceptionally clean local specialties
Korean Beef
First-rate pure Korean Beef brand that 100% controls the processing, distributing, and selling of locally sourced beef from cattle raised with clean water and air from the foothills of Palgongsan Mountain.
Apples
High-quality apples with a sugar content of at least 15 to 16 brix. Grown in Gunwi's pristine, pollution-free environment, Gunwi apples are dense and flavorful. The eco-friendly farming and harvesting practices used locally mean Gunwi applies are safe to eat without having to peel off the skin.
Crunchy Cucumber
Gunwi is the largest producer of "Crunchy Cucumbers" in Korea. Although a little on the thornier side, these cucumbers taste and smell light and cool, and they have crunchy flesh. Gunwi-gun controls the quality of its Crunchy Cucumbers with a joint sorting system.
Jujube
Jujube fruits grown in Gunwi's clean environment are very large and sweet. It is one of Gunwi's top local specialties, which is why the County hosts a Jujube festival every year.
Amisan Pyogo (Shiitake) Mushrooms
Shiitake mushrooms produced in the clean air and pollutant-free environment of Gunwi have a chewy texture and excellent flavor.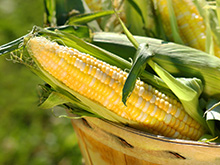 Multicolor Corn
Multicolor Corn is high in Anthocyanin content and is a popular brand that has been exported to the United States thanks to a patented processing technique originally used in traditional Korean medicine.
Plums
Plums produced in Gunwi, which is considered the best place to grow and harvest plums, are often given the top grade due in large part to their extremely high sugar content.
Tomatoes
Tomatoes produced in the modern farms across the clean Gunwi area are highly resilient against diseases, they have firm flesh, are easy to store and transport, and taste much less bitter than other tomato varieties. This makes them the perfect breakfast replacement, or for people looking to lose some weight.